Dani Alves will be 34 years old next year, and it will be hard to imagine Barcelona giving their long-serving right-back a new contract.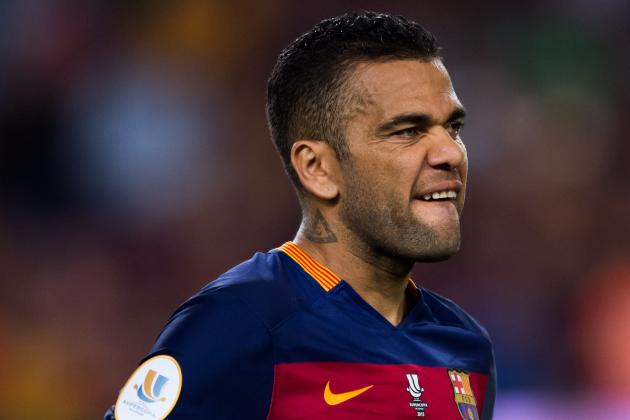 For this reason, Barcelona will have to start planning for a replacement at the moment itself.
One possibility will be Hector Bellerin. The latter has come through the ranks at Arsenal and has established himself as a first-team player. Given that he is a former Barcelona academy player, he may appear to be the obvious player to fill the void that will be left by Alves. However, you should expect Arsenal not to give up on their player easily especially now that they are not a selling club anymore. Bellerin is an established player for the Arsenal defence, and it will be hard to find them allowing him to leave their team.
Another possibility for Barcelona will be CesarAzpilicueta. The Chelsea player is currently frustrated playing on the left side of the defence, and it is likely that a good offer coming from Barcelona may tempt the defender to make the move to Spain. However, it is very unlikely that Chelsea will let the player go, and we will have to wait for the arrival of Conte to find out how he is going to structure his team.
The advantage of CesarAzpilicueta is that he is someone that has already proved his worth in the best league in the world. He is good at attacking and also at defending and should not let his defence expose on counter-attack. In this aspect, he might even be an upgrade on Dani Alves since Alves has more often than not been guilty of wrong positioning and left his defence vulnerable to counter-attack.
Whatever player Barcelona choose, it is important that they start their discussions early if they want to ensure that they get their new player at the right time to fit in once Alves is gone.